♦Welcome to another edition of the Open Book Blog Hop!♦
---
Topic #387
A field full of sunflowers on a bright morning?
Or, rolling hills on a clear, full moon night?
Welcome back to another Open Book Blog Hop! The authors included in this ongoing series wish to thank you for your reads. Even more so, we appreciate that you share our writings with friends. If you're new to the series, welcome aboard. The authors engage and impress weekly. Prepare to become a regular reader.
I believe the things we favor tell a lot about the person we are. Questions like this can help people frame several personality traits in one quick image. The reason is found in semiotics. Language is a construct of symbols and signs. Words stand in for the objects and ideas being expressed and discussed. Humankind impart objects with meanings beyond their formal use or reason for existing.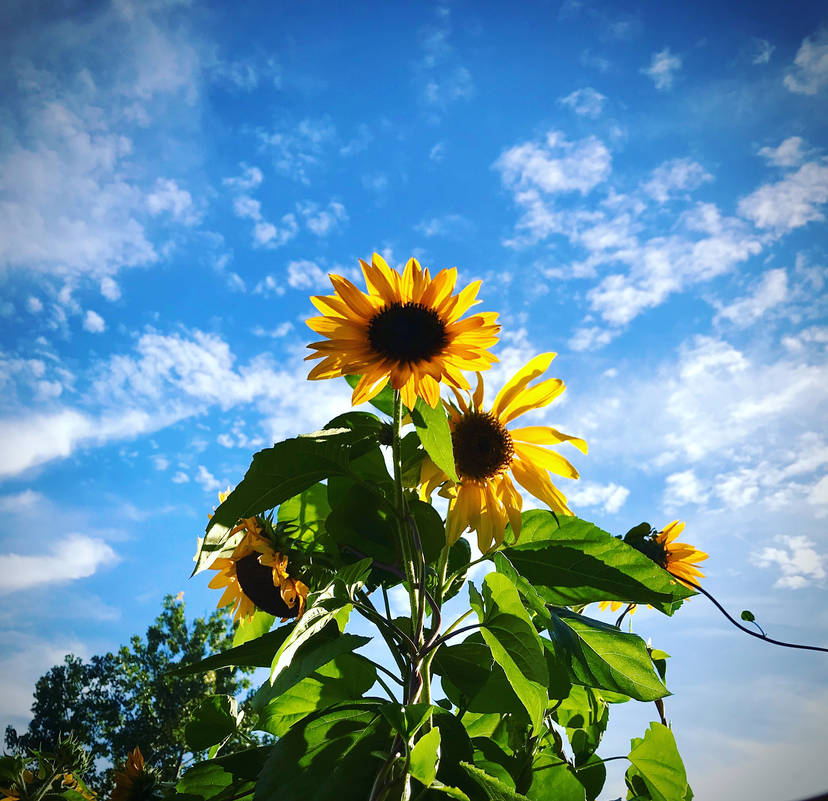 When you think of a field of sunflowers, you have a very clear vision. That vision includes meaning, often clothed in an emotion. Think about it. Picture the field full of sunflowers. Usually, there will be a bright blue sky to contrast the brilliant yellow discs (maybe the fun orange and red ones). Are there some clouds or is that sky clear. Are the leaves on the sunflowers brilliant green? Is it later or earlier in the day. Why do you think you apply those parameters to the image? Whatever you answer to these questions, what matters most is that you have an attachment to the result.
The attachment to the resultant image is formed from years of living within our families, cultures, and world. What a child will imagine is going to be different from what an adolescent or adult will see. Adolescents and adults will be far more similar in their agreement. This is due to experience in meaning making. When you mix that meaning making experience with personal preference, you see the attachments. How we think, see ourselves, view the world, and what we know will all frame an object or concept. Sunflowers, after all, didn't get randomly called sunflowers. They look like the sun. Meaning making.
What we picture when answering this question can tap into our values and personality. In other words, we use our personal preferences. The picture above is from my backyard. I grew those flowers. Without the actual image in front of me, I would forget about the soft melon color the bright petals get in the sunset. You can't really see the bees that dotted the brown centers, as they gathered their pollen. I forget just the right shape of the plant's leaves, and the multi-tonal greens. A plain blue sky without clouds, in my opinion, provides better contrast. There's a kind of split screen shot, where the field of flowers goes on for nearly forever into the horizon, blue over yellow, like a Ukranian flag.
While I adore such images, and they fill me with a sweet nostalgic warmth, there really isn't anything like the rolling hills of a countryside beneath a full moon. The magic is strong. The tones are rich and deep. I feel a part of the scene, not an observer, clothed just like it in the moonlight and dark. It's romantic and horrifying. The play between stark contrasts of moonlight and dark fill my core with longing.
If you strolled through my gallery, you'd see a lot of light play in my photographs or paintings. Contrast is a favorite experiment of mine. When I process a photo, increasing the contrast is one of the first things I do to balance the image in a way that I find appealing. My paintings go similarly.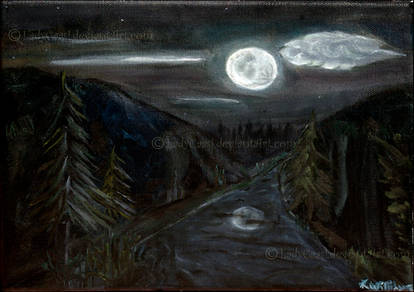 Somehow, I think that the painting here shows a greater vastness than the image of the sunflowers. It feels like a much bigger world. There's a lot not yet known, too. The curious feeling can only come from things so indistinctly defined. Daylight has a knack for making things clear and simple. In daylight, you know what you're walking into. At night, you have to feel your way and move cautiously. You slowdown and pay attention harder. There's a danger involved.
I value both of these ideas, night and day. There needs to be a time to rest from adversity, and the daylight often provides that. Still, the night promises adventure. There are so many intertexts on that through our many cultures. Likewise, it is understandable why some are drawn to the sun and others to the moon. There's something in us. Our preference for one or the other thus alludes to those things.
You can safely bet that I have had a lot of fun experiences framed by the night. I look back on them quite fondly. The dreams that gave me material for most of my books also predominately happened at night. There is so much magic to be found in the moonlight.
Do you think that the sunflower promises safety and comfort in contrast? Let's see what the other authors answer and if there's a consensus on that. Click on their links below. Before you go, drop your email in the box at the top right of the page to have this hop delivered to your inbox each Friday.
---
---