Welcome back for another round up for The Environment This Month.
Midsummer often reminds folks of the changes to the climate. They notice how humid, or hot and dry the days have gotten, and little recall such similar weather. This is especially true as we come into storm season. The Central United States will face devastating damage. Right now, families prepare around the world for what is to come. Can we ever be prepared? Time is running out while those in power play games.
How much longer can the aware just sit aside, preaching? Let's get down to business…
The Farm Bill is something those who care about the environment and, you know, things like eating, have been paying attention to. So it's good news that the bill dropped the riders. Riders are like ticks, and they suck the life out of otherwise good efforts by lawmakers.
This afternoon, the U.S. Senate passed a Farm Bill free of several anti-environmental provisions included in the House version by a vote of 86 to 11. Bart Johnsen-Harris, Clean Water Advocate for Environment America, issued the following statement:

"We cannot grow healthy food without clean water and proper stewardship of our land.  Today, the Senate recognized that fact by passing a Farm Bill free of attacks on core environmental protections, such as the Clean Water Rule. We congratulate Senate Agriculture Chairman Pat Roberts (R-KS) and Ranking Member Debbie Stabenow (D-MI) for their hard work to keep this Farm Bill clean.
I find it quite interesting, this next bit of news, considering this nation's drive to clean up the environment. It was listed as top priority.
The New York Times thinks it's found the culprit of one of the strangest scientific whodunits in recent memory: the reappearance of illegal, ozone-destroying chlorofluorocarbons (CFCs) in the atmosphere. According to the Times, the surge in dangerous CFC-11 reported in May might be largely or entirely the result of foam-producing factories in the town of Xingfu, China, that operate with little oversight.
It's really pathetic of humanity to just let another species go extinct. For all the ingenuity and morality we claim to have, this proves otherwise. Extinction is the habit of a parasite, something that disregards it's mortality for an immediate fix.
My question about the efforts of the researchers, how does a hybrid really preserve anything? All it does is create a new subspecies. preserving the DNA would require cryopreservation. Hybridization is not preservation…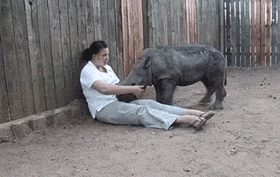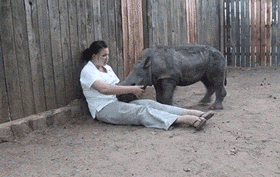 An international team of zoologists and reproduction researchers is on the way to producing a hybrid rhino to preserve the genes of the northern white rhino, after it became functionally extinct earlier this year.
The next piece should have you asking about the impacts of human longevity on the environment. With age, just longer life in general, comes the use of more resources. With a planet already pushed to the edge, should we extend our lifespans? Ethical questions will forever haunt this question.
On the day that one becomes an octogenarian, nature bestows a mathematical birthday gift: a gradual reprieve from the relentlessly increasing likelihood that he or she will die in the coming year.
When legislation passes and will take years to implement, I'm always confounded, especially when the matter is so grave as the destruction of the coral reef. Why not right now? I suppose we should be reasonable, but does the coral just hang on a minute while we get our act together?
Hawaii's governor, David Ige, signed a bill banning certain types of sunscreen in the state, starting in 2021.
Being vigilant in times of great turmoil is a necessary act of a citizen. We must all be vigilant and act. We have to keep an eye on the bedrock of environmental legislation, because moneyed interests will stop at nothing to remove any bars to them earning even more. The best thing a citizen can do is become aware of the slant, the bias, that people have when they are trying to tell a story or sway your opinion. Implicit in that is finding the facts, if not the truth.
A linchpin environmental law is now being scrutinized by the Trump administration and could be targeted for reforms. The National Environmental Policy Act, commonly referred to as NEPA, dictates the environmental planning process for federal agencies. Any changes to the NEPA process could have far-reaching impacts on the vast public lands and infrastructure of the West.
This next piece, I'm sure you have already read about, but it deserves a repeat, because it is actually good news. It shows the ability of people to affect change by applying constant pressure and keeping that vigilance I mentioned earlier. Let's gander at this again, friends…
Scott Pruitt has resigned as the head of the Environmental Protection Agency, amid a slew of scandals involving everything from luxury travels to rampant conflicts of interest. Second-in-command Andrew Wheeler, a former coal lobbyist, will become acting director of the EPA come Monday, according to President Donald Trump.
This next piece is controversial. On the surface it seems a no-brainer. Dig a bit deeper and you realize that this impacts a segment of society who goes ignored quite often: the disabled. Many forget that people with disabilities may be unable to drink from a standard cup or mug. Without straws at restaurants, they would need to bring their own, or their own tumbler. Certainly that sounds easy enough, but pretty soon they're going to need to haul luggage around for all the items they need to get through the day (in many cases daily conveniences are life savers for others). I keep asking the question: what about biodegradable plastics from plants? Paper straws would work for the average person, but they simply don't work for everyone. Besides, where is the paper sourced from? That could be a great hemp side industry, including plastics from hemp.
Single use plastic straws are a small thing that's stirred up a big controversy, mainly because of its impact on the environment. It's prompted a growing number of major companies to abandon something that's almost iconic in American dining culture. . . And just last week, Starbucks announced they'd eliminate all plastic straws by 2020. Other companies, like hotel chains Hilton, Marriott and Hyatt, to air carriers such as American Airlines and Alaska Airlines, are also planning to phase out disposable straws.
Thanks for reading! Until next time…
---
If you like what you read, sign up for the newsletter to have these posts sent to you once a week in an email. It's simple! Just enter your email address in the box on the top right of the page.