♦Welcome to another edition of the Open Book Blog Hop!♦
---
Topic #250
Every story starts with a stranger in town or a journey. "Pa, we're takin' the wagon to Virginian City," every story ends with "Golly gee, Wally. I thought we were goners." True or False?
---
Welcome back to another Open Book Blog Hop! The authors included in this ongoing series wish to thank you for your reads. We appreciate, even more so, when you share our writings with your friends. If you're new to the series, welcome aboard. The authors engage and impress weekly. Prepare to become a regular reader.
Much like the music and film industry, the publishing industry also makes use of formulas. What worked on previous projects is a safe way to guarantee income streams. When anything is commodified the potential income is the singular focus of what's produced. The big show arenas of our art forms are no different. That is not to say that the artists working on those products aren't working hard, either.
The purpose of producing a product is to sell it. I think we can agree on that. Most authors are also seeking to find what works in storytelling, rather than till new soil. It can be uncertain and it can fail. The fear of failure is quite the driving force. After all, this could make it difficult to endeavor toward your next work–whether that is a dried up revenue stream, or lack of interest due to the distrust built from something that didn't quite work out all that well.
Thus, many authors seek advice that will help them meet the expectations that assure them what they need to continue. I see it all the time in forums. What gives me heart is seeing those who want to try something different, or at least more off that beaten path. Encouraging that is very important. Writing is culture, and culture needs to evolve with time (just like the language we use to create our art).
Authors who don't attempt to color-outside-of-the-lines will still find success, but the authors who dare to write outside of the formulas are the ones remembered. Success is just as subjective as liking a book. Your measure is yours. The question above reflects the ideas written about in the book: The Hero's Journey. Every single story boils down to these story structures.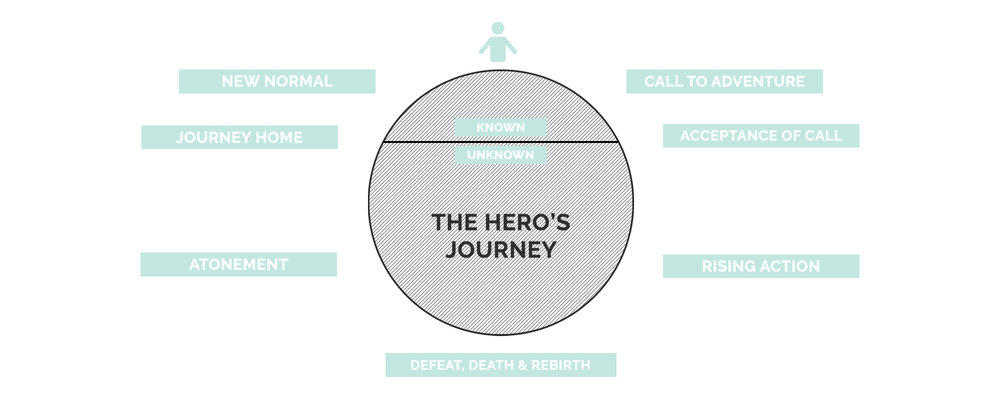 Of course the books don't begin and end with these specific lines. Mine don't. However, OP-DEC does reflect the idea behind those statements after Claire's return from her harrowing adventure, all started by her aunt telling her she was going on a little trip. Blue vaguely taps on these ideas, but it is not our protagonist who goes on the journey. You can bet that the characters who did leave home were certain their lives were on the line for the entirety of the story.
The Trailokya Trilogy, however, doesn't so closely follow this. Captain Maiel is well-used to adventuring. It's her job. When she does run, it's out of fear of staying and losing everything. She goes, in order to stay. Throughout the narrative, she is pressed to find enough reason by which to hold onto certain aspects of her life. You'd think that she would be more driven to preserve her marriage, but this is essentially a tale of suffering and abuse.
Maiel doesn't per se believe she is a goner. She sees her marriage ending, and what she knows changing into something she can't articulate at the moment. As time passes, Maiel grows increasingly comfortable and embraces change for what it is. The pain of separation is with her throughout, but the journey shifts from one of fear to one of resolve. Maiel discovers what matters most to her. The threat of dark forces just propel her forward, returning her from that state of fear back into the resolute soldier she was at the outset.
Trailokya explores the idea of losing what we believe we need, or what we believe makes us a whole person, to find what truly does make us. It explores relationships in their value to our well-being. There are themes of lost love and penultimate evil, but these always act to confirm (or affirm).
I suppose that being threatened with the loss of all we hold dear is similar in a way to going on the journey to the big city and nearly losing one's life, but I think it is a far richer idea to explore. We often become complacent in our lives and wonder if there is not something better for us. Or, as in Maiel's case, we have accepted something that is degrading us instead of upgrading us. To recognize it and to fight against it can often be costly, when one has no idea if it will be worth the fight in the end. For instance, the abused partner in a marriage becoming aware this is not normal, but choosing to stay or go. That choice can be deadly. Also considered: the idea of never returning home again. That which was is obliterated.
I'd have to say that it is false to say every story boils down to these statements, but the hero's journey poses a few more tracks to take than being chewed up in the big city. It is one of them though! The joy of reading is finding out how an author guides us and the characters across the paths, and with what skill they do such by.
Read Breakfast at Tiffany's for some of the most beautifully written prose about some of the worst people in the world. It's worth your time. Once you do so, you'll see what I mean by the above statement. Skill in writing means more to your story than the story itself, especially when irredeemable characters are involved. Capote was an expert. No formula can help with gaining those skills. That takes a lot of time and experimentation, getting off the path.
Let's see how the other authors answer this question by clicking on their links below…
---
---