Welcome back for another round up for The Environment This Month.
How about that Groundhog, eh? Hahaha! I love the tradition (yes, I'm aware it's bogus). There's six weeks either way, anyway. Snow and ice is in the forecast for a while longer. So, let's get started without another minutes pining for spring.
You might recall an article about the threat of micro-beads to the environment. Australia is stepping up to meet the danger. However, like all other advances, the next step appears to be a problem as well…
Australia is ridding its cosmetics and soaps of plastic microbeads, but it may have unintended consequences, a leading scientist has warned.
Honestly, I think I should be less aghast that this is happening, yet again, than I am. Each time another pipe is proposed, constructed, and inevitably leaks, I feel like whacking my palm against the foreheads of those who approved such insanity. Failure to learn from the past? Refusal to accept what the past has taught us? Or, is it willful refusal, both to care or pay attention? Perhaps just bald-faced insanity born of gold lust…
A federal judge heard testimony Thursday that construction of a crude oil pipeline in a Louisiana swamp is tearing down irreplaceable, centuries-old trees, destroying animal habitats and jeopardizing fishermen's livelihoods.

But the company building the Bayou Bridge pipeline though the heart of Cajun country insists that governmental regulators issued a permit for the project after thoroughly and properly assessing its ecological risks.
Back across the seas, in the tumultuous mid-East, environmentalism was set back this month… (Yes, there are pockets of environmentalists in Islamic countries—something Western News sources don't much like to report on, because it runs contrary to the image they'd like to paint of middle eastern peoples.)
An Iranian academic and environmental activist imprisoned by Iranian authorities last month has died in prison, his son wrote on Twitter on Saturday.

Kavous Seyed-Emami was the managing director of the Persian Wildlife Heritage Foundation, which seeks to protect Iran's rare animals, and a U.S.-trained scholar in sociology.
Why am I not surprised? Yet again, policy from the current administration is pure horseshit that benefits no one but the big businesses and top percent of this country. Deregulation is code for free-for-all. Those who end up paying the price, are poor and middle class. We've carried the tab for those who deem themselves the ruling class long enough (centuries).
Americans don't want this. A poll of likely voters commissioned by the Center for American Progress and Defenders of Wildlife found that 94% of likely voters—including 92% of Trump voters—believe we can build and modernize America's infrastructure while also maintaining environmental protections for air, water, wildlife, and natural places.

Americans want strong and durable bridges. But they also want the water that flows underneath them to be fishable and swimmable. The Trump infrastructure plan would reduce scrutiny of projects that would discharge pollution into the nation's waterways. It also would undermine states' power to object to projects that would pollute waterways or drain water resources within their borders.
I apologize for the continued bad news. This next piece comes from the incomparable EDF…
Swiftly after arriving in office, the Trump Administration launched multiple attacks on the crucial limits on the amount of methane pollution — a dangerous greenhouse gas — that the oil & gas industry is allowed to vent, leak, and simply burn off (in a process called "flaring") on America's public and tribal lands.

The Department of Interior's Bureau of Land Management has released a new proposal to replace these protections. But this new draft falls far short of what we need, putting Americans' health and safety at risk.
The hardest part about watching the current American administration is watching the perception of the United States as a world leader dissolve. It reminds me of a skit mocking the Nazis where two uniformed soldiers realize by way of the skulls on their hats, that they're the baddies. Of course I knew that the USA was not universally admired. A legacy of clear imperialism has taken its toll. However, the USA was a redeemable nation, if not for the achievements of its citizens, then for the drive to be better and fulfill the promise placed on paper in the late 1700s. But, Jesus, that is a long time to go with saying one thing and doing another.
Yet, here we are in 2018, slitting our own throats and embarrassing ourselves worldwide. I hope every day that matters will be resolved, but that is hope-less, I have a sneaking suspicion…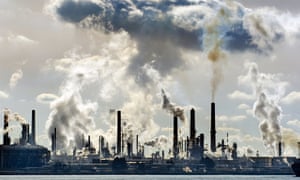 "The Trump administration has been sloppy and careless, they've shown significant disrespect for rule of law and courts have called them on it," said Richard Revesz, a professor at the New York University school of law.

"I expect we will see a number of further losses for the administration on similar grounds. If they keep showing the same disregard for the law, their attempt to repeal all these environmental regulations will go badly for them."
Apparently, I am not the only one to think so…
Take heart, though, the rest of the world is stepping up to fulfill the promise the United States had once stood for.
Thanks for reading! Until next time…
---
If you like what you read, sign up for the newsletter to have these posts sent to you once a week in an email. It's simple! Just enter your email address in the box on the top right of the page.