Welcome back for another round up for The Environment This Month. It's the third month of the year and as you saw by last month, a lot is going on. I'm always hopeful that good news will come up to share. It seems the feed is full of negative and scary things. I try to strike as much of a balance as is fair to the topic. We can't ever let up, and think that our job is anywhere near done.
With that said, we start out the month with some very said, and very jarring news.
So what happened this past month? Let's get started…
I don't know what to say about this. It's really a reminder of how dangerous a job activism can be, and that that the people who stand up to make things better face a very harsh opposition. Caceres was a brave woman. We're all going to suffer greatly for her loss. She was the defense of her native land, defense from corporate and urban sprawl–mass and suicidal deforestation.
"A large crowd in Honduras accompanied the body of Berta Caceres to its final resting place Saturday amid calls for justice in this week's killing of the indigenous leader and environmental activist."
To learn more about Caceres's fight read this announcement of her death:
"An environmental rights activist known for her fight to stop hydroelectric plants and mines from encroaching on indigenous lands was shot dead early on Thursday in Honduras."
And the plot thickened about two weeks ago…
If you're anything like me, you love your morning cup of coffee…and your afternoon cup….and the evening cup….
All those k-cups and pods, as they call them, are adding up to a lot of plastic floating back out to our landfills and oceans. Isn't there a better way? I'm as guilty as other coffee drinkers out there who use them, but I found a metal reusable k-cup for my brewer. I use it quite frequently. I just ordered filters to stop the fine dust from making it into my cup when I do. This opens up loads of possibility for your cup. (Ever hear of CoffeeAM.com? Oh, yeah…go go go.)
The article below addresses Canadians, but the problem is in the US and in many other countries. Yikes!
"Canadians seem to love using single-serve coffee pod machines. But a major problem for many is the impact of the pods on the environment – which may be changing the way we think about the coffee pod systems."
This next item might feel a little morbid, but let's face it, death is literally everywhere. It's something we need to come to terms with. In our current state of dealing with death, we put a lot of chemicals in the ground. The boxes that are used to encase the coffin are not forever secure. Those chemicals remain and leach out (yes, they might dry, but ground water can mix with the dried chemicals. As the body continues to decay the chemicals used to preserve it also enter the ground—either dry or wet).  Furthermore, the existence and need to make embalming fluids, and to deal with bio hazard materials (your dead body) also provide further pollution to the environment.
Cue the green burial revolution. You might have seen one of your crunchy friends, or that tree hugging girl you know from playing Farmville, wax on about wanting to do this when they pass away. Check it out…
"Biodegradable pods or detoxifying suits are changing the way people deal with death."
Well, you knew you wouldn't get very far with me without having to hear about the election. After all, this is a very important election this year. Quite frankly, we are in a crisis. Politics matters very much. Whether or not you're paying attention to it, it's paying attention to you. The political is personal, as Gloria Steinem coined in reverse (even though I am at odds with her since February). Everything political decides your fate. So, instead of waving people off, go ahead and have an opinion–please have an informed opinion, rather. Let's get you started with this…

"a significant difference persists between the two Democratic candidates on the issue of fracking — the practice of pumping huge volumes of water, containing some chemicals, deep underground at high pressures to crack open shale layers and release oil and natural gas." Sanders is against fracking, while his opponent is for it.
Here's another story you'd better get used to hearing about until something changes. Fracking is causing the poisoning of the American water table, one state at a time. Even MSNBC, the supposed bastion of liberal political news, sells spots to energy companies trying to sell the American people on natural gas. Those spots always annoyed the hell out of me. They're on a channel that we assume wouldn't do something such as sell the American people something that is going to hurt them, but then again, I was still being optimistic a few years ago before I cancelled my cable. Now, if I see those commercials, I realize a station is putting dollars before sense. We all have a price.  Ohio is starting to feel the cost of their ruling elite's price…
"Ohio has become a major wastewater dump for the fracking industry, sparking fears of groundwater contamination and earthquakes."
Zika is still in the news. For someone like me, a woman trying to conceive, it has become concerning. A friend of mine who is considering having another child was worried enough to ask her doctor. They told her, unless your partner is from a tropical place where the disease comes from, or you are travelling there, don't worry. But what about the outbreaks last summer of Ebola? We were told that wouldn't migrate here. With the ease of travel in today's world, I'm sure we'll be hearing a lot about Zika crawling up and beyond our borders in the coming months. Case in point: The NY Times writes, Puerto Rico Braces for Its Own Zika Epidemic. "Intensive efforts to stop the virus have begun on the island, where a quarter of the population will get it within a year, the C.D.C. predicts."
Virus-carrying mosquitoes change their behavior with warmer temperatures, suggesting that the latest outbreak may not be coincidental.
This next piece came up at the end of January, but has been gaining more attention in the following months. If you're familiar with the flint water crisis, then you should be familiar with the ongoing water crises across American. However, many are not. Did you know that Native lands are more likely to suffer water pollution and go ignored? They've been dealing with this for generations, but that is all part and parcel of a government that placed them in concentration camps and continue the efforts to this day.
"The news out of Flint, Michigan brought the issue of contaminated drinking water into sharp focus, as it was revealed that officials at every level—local, state and federal—knew about lead-poisoned water for months but did nothing to address the problem."
As for the Flint, Michigan crisis, the Governor is busy covering his ass and blaming others for the misstep he was on watch for.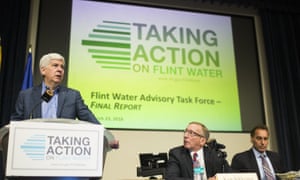 "Panel concludes in 116-page report that Flint residents, who are a majority black, 'did not enjoy the same degree of protection … provided to other communities…"
"After helping to drive Wall Street's profits for generations, the coal industry is in a free fall, and even daring investors are reluctant to risk trying to save it."
I believe it was the late fall of last year when news broke that Sea World was going to cease breeding in captivity at it's San Diego center. Well, it's now March of the following year, and this has happened:
The surprise move means the company's 28 orcas will be the last it holds in captivity.
Our less than wintry winter is due to a weather phenomena called El Niño. It's happened before and it will happen again. Although we can agree that we're all pretty thankful for not having to shovel so much or bundle up so much, the effects of this weather pattern can really screw up farming and therefore crops and animal products. That means more expensive groceries here in the States, which can lead to hunger, and abroad, especially in poor countries, widespread famine. The New York Times talks a little bit about that unfortunate upshot.
"The World Health Organization has estimated that changes related to the weather phenomenon are putting 60 million people at increased risk of malnutrition and illnesses."
Not only is famine a problem, but insect populations end up growing exponentially–remember the posts on Zika? That extends beyond mosquito to other insects…
"Southern pine beetles, which had never been found beyond the South, have been spotted in New England. They are capable of killing thousands of trees."
At this point, I pretty much feel that Apple can do no good. Stories come out weekly about the company, dimming the shine of their innovation, and eating them slowly alive. The public is turning and not turning at the same time. Let's call it indifference. That is the first step in the marketing popular contest being lost. When they're not impressed, when they're not thinking of you, you don't sell.
I don't think the movies helped their cause. Less so, the tell all books published posthumously of their front man. The public is always salivating over the next scandal, waiting to taste the offensive things that can be said of those they raised on high. The sociopaths laced through the population fan the flames (you can watch them at work online in the comments section of anyone's posts, demeaning and cutting away at people they hardly know).
That said, this article is absolutely correct. Enough is enough with the human desire for new things so they can throw away yesterday's new thing.
"Apple is trying to be more sustainable. But by constantly rolling out new products, it's contributing to a consumerism that may be difficult to neutralize from a carbon standpoint."
When I was a girl, I used to repeatedly watch a documentary on HBO about Nostradamus. Maybe it was a special episode of In Search Of. Anyway, Nostradamus is the important part. I remember hearing that he predicted all these things in seemingly cryptic verses called quatrains. Listening to the predictions for the future coupled with those of the past that were explained to be so clearly haven come true left me deeply afraid. Perhaps that fear has shaped my outlook on things. I know I was preoccupied by death earlier than I remember friends ever thinking about it.
So, when I read articles about Climate Change, I get a little pissed off about how they are presented. Sharing facts and warnings is one thing. Sharing sensationalized information for the sake of selling papers and upsetting everyone is the purview of sociopaths.
Do we need to pay attention? Hell yes. Climate Change isn't an epic poem written by a medieval alchemist. It's present. It is not cryptic. It can only be interpreted in one way (despite what others try to tell us). It is pressing. It will affect/effect us.
I'm still not happy that journalists feel the need to present that information in the way the following article is presented. Scaring people is probably necessary on several levels, because look at how denial is holding us back from solutions. But, that said, scare tactics are useless when we have few solutions. In fact, it's dangerous, because it could hamper innovation due to fear–as the fear has already led to denial and stagnation in response.
Anyway, this article…
"Findings published on Tuesday are likely to replay a debate among climate scientists that started when a draft version of the paper came out last year."
Speaking of fanning the flames of fear…
Thanks for reading! Until next time…
---
If you like what you read, sign up for the newsletter to have my posts sent to you once a week in an email. It's simple! Just enter your email address in the box on the top right of the page.