Welcome to the New Year! How has your 2o16 started? I hope it has been going well. I am hopeful for a good year, regardless of what the news bring to my inbox. But, let's get started before we allow the negative thoughts to creep up on us and dissipate the glowing promise of a new year.
First up for the environment this month, we have an issue that has been rising on the scale since at least the middle of last year. At least, we're seeing some traction on legislation to ban the use of micro beads. Microbeads have been reeking havoc throughout the environment:
"Our oceans have been choking on these tiny plastic microbeads for way too long," Miyoko Sakashita, oceans program director with the Center for Biological Diversity, said. "This is a huge and important step toward protecting fish, birds and other ocean wildlife hurt by plastic pollution. I applaud the Senate for following California's lead and voting to eliminate this pointless and harmful source of plastic pollution."
The Senate unanimously approved a bill phasing out the manufacturing of plastic microbeads by July 1, 2017 and the sale of beauty products containing microbeads.
And Obama approved the ban soon after.
And this is why it needs to be done:
About 8 million metric tons of plastic end up in the world's waterways every year.
Onto something interesting to help take a breather after that bad new!
 Technically, this is from last month, but it didn't make it into that update, and this is way to important to blow off…
Giant squids usually remain in the dark depths of the ocean or in pirate stories. However, late last week on Christmas Eve, a squid from this elusive species was spotted swimming at the sea's surface. The amazing footage was captured on December 24, 2015, in Toyama Bay on the west coast of Japan. It's believed the beast is a juvenile, measuring an estimated 3.7 meters (12.1 feet) in length, compared to the 13 meters (43 feet) of a fully matured adult.
I'm not quite sure when this was made, but Upworthy shared it and it will break your heart (not in the usual way animal videos do. There will be no violence depicted below). The original post comes from France,  Noé. It features Koko the Gorilla. If you don't know who Koko is, then you've been living under a rock. She's met a lot of celebrities in her time, but what is most impressive about this cousin of man is her ability to clearly communicate with us via sign language. Her realization is the realization of years of Cognitive Studies in animal research. What she has to say to us is often charming. Her honesty is real. And, here, Koko doesn't pull any punches again…
From time to time, if you watch my page on Facebook, you'll see me chat about the Yellowstone Wolves or wolves from Idaho, and the murderous derbies people run. It's all pushed by propaganda straight out of the middle ages, which ranchers are using to decimate their populations; hunters, too. They all want a piece of the animal that gave us dogs. It's is pretty sick if you read their reasoning and get a gander at their lust for blood.
Now, over the past several years, Bison have been making quite a comeback. So now, Ranchers are fixating upon them as well. They sight disease transfer from bison to cattle (no recorded disease transfer for the disease they're concerned about). The rub is, if bison had more land to migrate over, because they used to have the entire Midwestern plane, they wouldn't need to cull the herd. This said, I don't have as great a problem with the slaughter of bison as I do wolves. Bison are a food source. I eat their meat instead of beef because I can't digest beef. It's a good meal and much better for you than cow meat. However, if I found out that these animals were being wasted, much like the herd that was slaughtered here in NY for getting out of their yard, I would be a lot angrier. Also, the 18% of their population being taken, obviously recovers within short order, unlike wolves who are slaughtered at much higher rates and don't whelp that many pups yearly. Find out more here about the bison…

Government agencies aim to kill or remove up to 900 wild bison from Yellowstone National Park this winter as part of an ongoing effort to reduce the animals' annual migration.
On an up-note…There is this bit of good news from the DOJ…
No longer will violent cases of animal cruelty be included in the "other offenses" category simply because the victims of the crime are animals… The new FBI categorization is significant because it affirms that at the highest level of our government animal cruelty is recognized as a violent crime."
Following up that awesome bit of news, NASA will be undertaking a new endeavor to review the world's coral reefs. The project will only be able to study a small percentage of actual reef, to accumulate information on how pollution and climate change is affecting the delicate ecosystem, but it will have a large impact on the action we take from there. Find out more here:
The space agency is lending high-tech instruments to a 3-year study.
It looks like there will be another lawsuit against Monsanto. There have been hundreds already with little affect to the huge company. Can the city of Berkley make a game changer? Each strike leaves a dent. (Did you know that presidential candidate Hillary Clinton hired a former Monsanto lobbyist to advise her campaign?)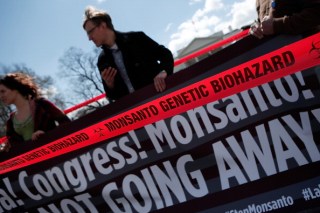 And much like the felony ruling for animal cruelty and the tracking by the FBI, we can strike this win in the collumn for animal rights. This has been a super long time in coming.

This is ahead of its planned date of 2018.
After all of this, it seems that the times are changing. Further proof of that can be found in the shift to green energy. Just a few short years ago, I sat listening to conservatives claim that it was a scam, which they would be immune from because they weren't liberal hippies too foolish to use what's already set up. This went hand in glove with climate change denial. Yes, they denied climate change as a ruse to get them to buy into clean energy. It makes you want to just slam your head on the desk. Because clean energy is such an evil! Yes, why would we want a clean environment when we can continue polluting and poisoning ourselves?
Eventually their arguments disappeared from my posts because I made them look like fools—or rather like wild primates bathing in their own feces. You can almost always beat their argument by highlighting their absuridity. Sure they're gonna be angry, but what you say, so long as it is housed in reason and facts, will stick with them, haunting them. And thus, things like this come to pass:
One out of every 83 jobs created in the United States over the last year was in the solar industry.
Thanks for reading! Until next time…