Welcome back for another round up for The Environment This Month. I'm so sorry I didn't get to round up any of the news in October. It's tough finding time for the blog since having a child. I'm so glad I wrote the articles I could ahead of time. This month, while we feel an early cold snap in New York, I'm hoping to get back to my schedule and bringing you the best content possible.
First up this month is a cause close to my heart. I'm very excited to report that the DiCaprio Foundation has taken on the preservation of North American Grey Wolves. That means there is a lot more hope for our local canids. The foundation has done extensive environmental work already. I'd like to see them add Mexican Wolves to their lists, too. That species is in grave danger. Check out the announcement here:
To help in the recovery of this iconic species Leonardo DiCaprio is supporting the work of Defenders of Wildlife and their effort to bring back the Mexican Gray wolf in New Mexico, Arizona, Utah and Colorado. Over the past year because of their work with ranchers and other partners for the first time, the wild population reached a record 113 wolves, up from 97 during the previous year.
Despite the attempts of 45 and his administration, the world is moving ahead with the Paris Agreement. Which, quite frankly, makes me feel a hell of a lot better. We might be poisoning our own back yard, but the rest of the world is going to do their damnedest to fix things, and that will put the pressure on the United States necessary to make addressing environmental issues a priority. They can try to resist, but that will fizzle, especially in the court of public opinion.

The United Nations is hosting the annual climate change conference in Bonn, Germany this year and the first one taking place since US President Donald Trump took office.
I don't know about you, but I'm seriously exhausted by people who want to go an kill other animals for sport. There's no sport in it at all. Besides, the fact of the matter is, that behavior is deeply sociopathic and should not be condoned. This is not hunting to feed a family. No. This is hunting to make one's ego feel good and full. I don't know about you, but my gut tells me when I'm doing something wrong. Even just preparing a fish or chicken fills me with dread unless it's already been dressed. Hunting of big game is just a big fat waste. A lot of the animals are also endangered. To feel entitled to kill something—that's just disturbing. I'm glad to see the following response to 45's ludicrous decision.
The suit, filed in federal court in Washington D.C. by the Center for Biological Diversity and Natural Resources Defense Council, charges that President Trump's decision to allow big-game hunters to import the remains of elephants and lions hunted legally in Zimbabwe and Zambia violates the Endangered Species Act.
Sometimes, when we think we're fixing a problem, another presents itself or worsens. Light pollution is not anything new. Not by any stretch. I remember hearing of this when I was barely out of a car seat. It panicked me then, but I'm numb now, because there is so much wrong with our planet after using it like a disposable terrarium. You'd think by the time we each become adults, we'd know better from experience, but too many live in denial or believe that some fantasy being is going to make it all okay.
Thus, we must be aware that not all solutions result in a perfect answer…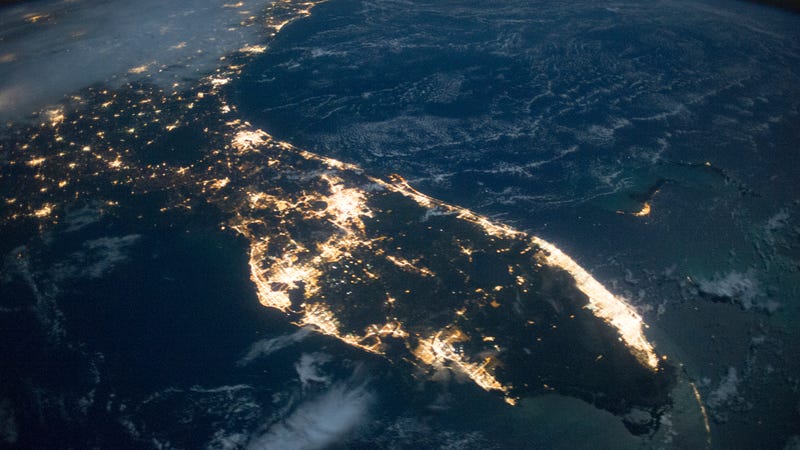 To reduce energy consumption, many jurisdictions around the world are transitioning to outdoor LED lighting. But as new research shows, this solid-state solution hasn't yielded the expected energy savings, and potentially worse, it's resulted in more light pollution than ever before.
Here's something to keep in mind this holiday season…
There are lots of good arguments for buying local, but if you're trying to reduce your impact on the climate, local isn't always best. If you compare online shopping with driving to the store, in many cases online shopping can have a smaller carbon footprint: Trucks have to deliver goods to stores, just like they do to your house.

Problems start when we opt for speed: We don't just want things delivered to our door, we want them delivered to our door right now. If we can get a pair of socks delivered in two days instead of five, we're going to choose the faster option, especially if it's free.
Remember: there are no perfect fixes. There are only steps forward.
Thanks for reading! Until next time…
---
If you like what you read, sign up for the newsletter to have these posts sent to you once a week in an email. It's simple! Just enter your email address in the box on the top right of the page.