Welcome back for another round up for The Environment This Month.
Great news! Spring is at last upon us. It's been a long cold winter up here in the Northeast. I'm thankful for it though. It's all part of the normal cycle. It also helps me appreciate better weather. Still, I'm not blind to the changes I see. I've been saying since I was a girl that something isn't right. Science backs that all up. This year, winter lasted extra long. Yes, that has happened before, but it's becoming the norm. How can anyone stand there and deny something is going on anymore? Maybe, it's time we wake up to the reality that climate change deniers are just manipulative people helping the bottom line of those they think will later benefit them. I've believed for a long time that people on that side of this issue are working us around for kicks. There's some kind of sick game afoot. Of that, I am certain. Sadly, it will cost all of us.
Let's get started with the news stories from this month, so we can continue doing the work that will truly make a difference, and preserve this small blue planet of ours:
At the end of last month, discussions continued about the refuse plaguing the Pacific Ocean. You might have heard of it referred to as the Great Pacific Garbage Patch. You see, for a long time, people thought that the oceans were an abyss that could take endless dumping. The oceans are so vast and deep, so it made a lot of sense to those dumping (corporations), and those in a position to do something about it (politicians). As we've learned, companies have been paying off our government officials for the entirety of US History. This isn't surprising since bribery has been a thing since positions of power were invented. Unfortunately, humanity as a whole must resolve this issue or suffer from the fall out of it. We're already seeing sea creatures exhibiting disease resulting from the plastics, and it's impacting our food supply. Here's more on the topic…
The Great Pacific Garbage Patch is the world's largest collection of floating trash—and the most famous. It lies between Hawaii and California and is often described as "larger than Texas," even though it contains not a square foot of surface on which to stand.
Continuing with California, a leader in environmental and social innovations in the United States…
California is often the first state in the West to test new solutions to social and environmental problems. These days, the state is at the fore of a much more ambitious challenge, as it finds its progressive ideals — and its increasingly diverse citizenry — in frequent opposition to the policies of President Donald Trump. Every month, in the Letter from California, we chronicle efforts in the state to grapple with its role in the changing, modern West.
The intersection of environmental concerns and social justice is a key one. Environmental pollution, climate change and other conditions adversely affect women and people of color to a higher degree, because these groups are already more vulnerable in society. Women earn less. Women of color earn even less. Imagine now, attempting to buy groceries at rising prices and limited supply. Urban areas are already starved of supply, and have the highest population of people below the poverty line. This is a situation waiting to boil over in so many ways…
For nonprofit organizations concerned about equity, environmental justice is a critical lens to consider. In fact, environmental justice stands squarely at the intersection of community and economic development, environmentalism, and systemic inequality by addressing the structural components of racism that negatively and disproportionately impact the health of communities of color.
This next piece is more political than environmental, but the corruption of the current EPA tenants is impacting policy that has rolled back many protections.
The nation's top environmental official kept busy Wednesday trying to clean up his own reputation, while a White House spokeswoman offered only a tepid defense.

EPA Administrator Scott Pruitt gave interviews to Fox News and the Daily Signal in which he defended a controversial housing arrangement and insisted he was unaware that two top aides had been given pay raises over the objection of the White House personnel office.
It's absolutely frightening what is happening with the current administration. They're basically a wrecking ball to the decades of work that has been done to protect our nation and its citizens from the abuses of corporations, etc. Dismantle is the decree.
In one of its most aggressive moves yet against Obama-era climate action, the Trump administration announced it is tearing up landmark fuel economy rules pushing automakers to manufacture cleaner burning cars and SUVs. The move invites a major battle with California and a dozen other states.
and that's not all…
The problem with this is, it only benefits a select few human beings, and only for a very short period of time (profit taking). When we are facing such things as the following study on currents and climate change, it is deadly to deregulate…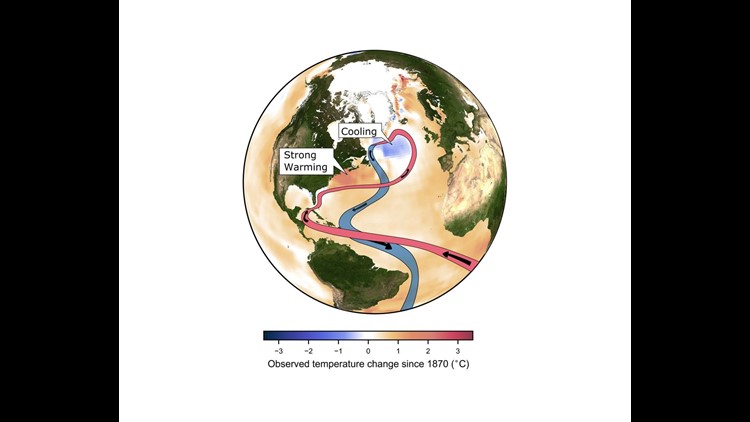 The first study notes that heat waves over the ocean have become longer and more frequent over the last century, harming marine life and coral reefs. The study, published in Nature Communications on Tuesday, found an increase of 54% in the number of annual heat-wave days from 1925 to 2016.
In addition, any further advancements on protecting the environment are facing stagnation.
Recent congressional victories reauthorizing the EPA's Brownfields Program and extending carbon capture tax credits combined with looming midterm elections could cool any movement on big-ticket environmental and energy bills.
The next time someone cites history as a reason not to worry, remind them that humanity has been affecting the environment for the entirety of their existence, with little to no concern.
It's likely that a combination of factors led to a planet-wide demise in sizable mammals as the Ice Age came to a close. But a study published Thursday in the journal Science provides evidence that the major drivers were humans and other hominids.
This next piece is important to consider as we move forward on making the right choices. A rift has grown between social groups who identify in alternative diets. In other words, omnivores and vegetarians (vegans, too) are at odds. Yet, the truth is, purism in either meat or veg is not the answer. A hybrid diet which seeks to waste as little as possible is the responsible way.
The environmental costs of that wasted food are tremendous: 30 million acres of cropland (about the land area of Pennsylvania), 4.2 trillion gallons of water and nearly 2 billion pounds of fertilizer. Fertilizer contains compounds that can run off farm fields and compromise water quality.
Thanks for reading! Until next time…
---
If you like what you read, sign up for the newsletter to have these posts sent to you once a week in an email. It's simple! Just enter your email address in the box on the top right of the page.