♦Welcome to another edition of the Open Book Blog Hop!♦
---
Topic #399
What is a book you admire for something specific: world building,
characters, dialogue, setting, plot twists, etc.?
Welcome back to another Open Book Blog Hop! The authors included in this ongoing series wish to thank you for your reads. Even more so, we appreciate that you share our writings with friends. If you're new to the series, welcome aboard. The authors engage and impress weekly. Prepare to become a regular reader.
The answer I give is likely predictable if you've been on this hop for a time. Honestly, as I wrack my brain to think of another, there is no comparison to be had. This author's work nails every single detail in the question regarding their construction of their books. From the world building to the etcetera, there is no other book that achieves such a level of near perfection. Some may argue that this author only almost got there, or they may name something else that grew to love, but if we're being fair, this is absolutely truly the king of world building, character creation, dialogue, setting, plot twists (in its time), and all the rest.
The entire body of J.R.R. Tolkien's work could be submitted as an answer for this question. In fact, I struggle to pick the leader among the usual suspects. Currently, I am reading The Hobbit to my six year old. This revisit has been quite a lovely experience, as I get to share something I love with someone I love. She is a big fan of Bombur the Dwarf, by the way. If it's not Smaug, it's Bombur. Growing up, I liked the cantankerous Thorin best (and Smaug, of course). The Hobbit, however, is not the book I'd cite.
I'm tempted to put forth The Silmarillion as the premiere among his work. What a truly phenomenal piece of construction! It appeals mostly to my historian brain, as it reads like familiar historical document texts. (Later this will make a great deal more sense.) There is a lot to learn in this work about the world of Tolkien, and much is surprising. Don't you love a good origin story? Due to the thickness of the construction and a it's niche nature, I'll skip it to suggest the one that is also my favorite on film. Wait. Did I dislike any of them? Not in the least. The films are fantastic pieces of art, and I waited so long for them to exist. There is nothing I'll be caught complaining about in them.
The book I feel, in this moment, fits the bill is The Two Towers. Of course, here, we are already well-introduced to our group of nine. The addition of the Rhohirrim comes in this portion of the Lord of the Rings trilogy, along with the surprising and horrific abuse of their king and his niece at the hands of Worm Tongue. Indeed, this is also the point where we come into contact with a specific and ancient monster: Shelob. She is far worse than Smaug. I can't even imagine becoming her victim and that terrible death. At least fire is quick!
The dialogue that takes place in the keep of Edoras is phenomenal. There is also the talk between Sam and Frodo in and around the Shelob episode. We learn in this book that Saruman had betrayed his kind and Middle Earth for Power. Gandalf becomes Gandalf the White, returning from the after world. We see the forces that our beloved characters will face. We meet the Ents. Our group of 9 is now 8 and broken up across the map on their path to destroy the ring and stop Sauron.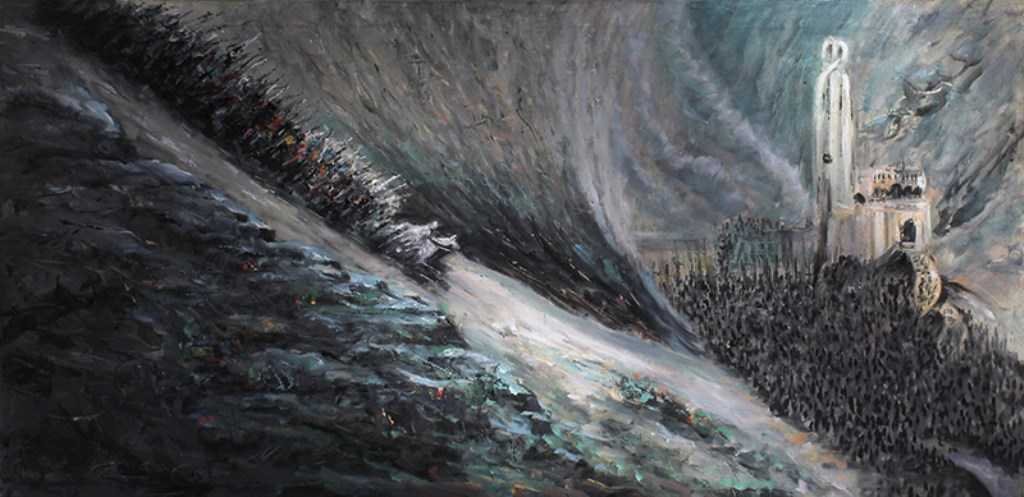 Out of the rubble of The Fellowship comes the re-construction of our quest, but not before we blow it all up again! This is also the book in which the battle of Helm's deep takes place. The dialogue is, again, superb throughout this portion. While reading this part, I was convinced that our three travelers were not to make it free from this end. Perhaps Aragorn would manage to escape in some construction, but surely not all of them. But, despite the powerful enemy they face, they rise above.
Tolkien was a master in bringing you to the brink only to reward the reader. Readers today will say that the work is predictable, or doesn't go far enough, but they're reading it out of its time. In other words, these books were unique in their time of release, and for many decades hence. It is because of Tolkien's writing (themes and other details) that we can feel that it is now the usual course of a work. He set the bar, and others tried very hard to reach it.
To bolster my opinion, I'll also remind readers that he was not just an author and poet but an academic level philologist (you can find out more about philology on the link, but essentially it means he studied, translated, interpreted, and worked with historical texts–such as Beowulf). Tolkien graduated from Oxford and later taught there as well as at Leeds and Pembroke. He was a veteran of World War I and served as a codebreaker in World II. These things greatly fed into the works he produced.
The effort and imagination that went into the construction of these works is as immense as the impressive education he received. I have a great deal of respect for his art and learning. It is difficult, however, to truly choose which of his books should take the spot of best, as they all seem to be one very large epic history of an all too real fantasy realm. In that, I can relate greatly to him.
Check out which books the other authors selected by clicking on their links below. Don't forget to subscribe, so you can receive this hop weekly.
---
---