Welcome back for another round up for The Environment This Month. That was a pretty hot July! I don't know how it was where you live, but the heat reminded me of why I try not to complain about December. Last month, I posted about an article that said June was the hottest ever, and I am assume that July will be the same. We are setting records and it's not a good thing. Still, I'm seeing the media downplay the importance, and steering attention toward coping not fixing. To me, that's a sign of sure doom. It lures us into complacency and that is the last thing we need right now.
Before I continue on admonishing the media, let's look into their reports for the month (not ironically).
Temperatures, sea levels and carbon dioxide all hit milestones amid extreme weather in 2015, major international 'state of the climate' report finds
Many of the biggest problems we'll experience from climate change are hardly even though of yet. Until the huge die off of reindeer in Siberia was uncovered by melting snow and ice, and a child died from the exposure of this dangerous microorganism, attention wasn't on what will come of the melting. Many dangers will hardly be calculable without recalling history and what has been done where. For instance…
This patch of melting ice is uncovering more than one issue
Another issue with melting ice, is that the melt helps to increase the rate of breakdown of ice sheets…
Scientists have confirmed that thousands of pristine blue lakes have appeared on the ice sheets of East Antarctica, and it's got them very worried.
I know this is stark, but I have some good news for you in the fight for a healthy planet. Check this out! It's going to help many issues.
Brazil's environmental regulator rules the dam's backers had failed to supply information to show its social and environmental impact
Part of why it's so difficult to make headway for environmental protections is the fear that regulations would hamper business. The United States is steeped in long held beliefs that deregulation is the best means by which to foster prosperous growth, when in fact it has created trusts and hampered the economy. Check out this article that discusses this in terms of environmental regulation and business, a study out of Kansas U.
A new study from the University of Kansas offers support for the Porter Hypothesis, which suggests that strong environmental regulations could actually lead to more innovation and profitability.
A good example of how deregulation can cause us bigger issues and destroy profits is found in the push for pipelines in the heartland. Not only do these pipes threaten our environment, but they encroach on sovereign Native lands. It is heartening to see Natives stand strong against these companies, but our government shouldn't be allowing this to even get to this point. Fossil fuels are the way of the past. Building new pipelines, which will be long-lived disasters flies in the face of all we've learned about climate change. It's not going to help us immediately or later down the road. The costs are far too high.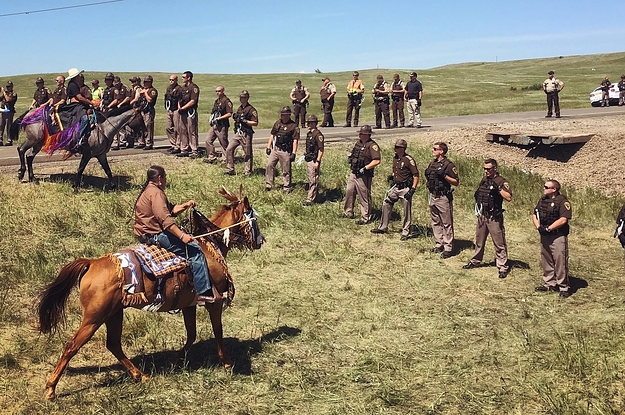 A proposed oil pipeline is set to begin construction on tribal lands in North Dakota. Members of various Native American reservations gathered Monday to try to stop it.
The cost of inaction on environmental issues is often much higher when left to worsen. California has been drying out for decades. It's an area of the west that is known for a drier clime. Human settlement attempted to change that, like Bugsy Siegel did with Las Vegas. Mic.com has produced a great article to discuss the cost of wildfires for the State of California, which are usually subsidized by Federal taxes, costing the rest of the nation.
It's a big number, and it's getting bigger every day.
One of the hardest things to do when keeping tabs on environmental news is to cope well with the inundation of animal suffering stories. Whether humans are directly abusing, or causing suffering via the way we've grown accustomed to living, we are each responsible for the state of the world. To blame animals for their predicament is the ultimate in sociopathic hubris. To blame them for not surviving better is even more cruel. There is something we can do, however. Use less. Stop consuming as if you're a black hole. If we each cutback just a little, it would make huge changes in the world.
I have some bleak news to share about our Southern Resident killer whales, which normally frequent Puget Sound at this time of year. J-14, a 42-year-old female named Samish, has gone missing and is presumed dead, while J-28, a 23-year-old orca mom named Polaris, may living out her final days.
I've found a couple of stories this month that are unusually uplifting considering the topic. That's not to say that all our troubles are slipping away. It's like finding $5 on the sidewalk without a soul in sight to claim it. It's not going to change your financial problems, but you just got a free lunch. Drop in the pan, but a drop in the right direction, that is something to be thankful for.
This first one really caught my eye. I knew there were moves to place oceanic wind farms, but wasn't certain construction had begun…
A just-completed project off the coast of Rhode Island, though relatively tiny, is at the forefront of a sea-based transition to renewable energy.
Next… I found this early in the month. It's a decent proposal. What if we helped convert current fossil fuel workers to clean energy work? Not only would that prevent unemployment, which is very bad for the economy, but we'd have a route to clean energy that would likely take less time to complete. Time being of the essence…
A study quantifies the costs and identifies four ways to pay for it.
And this is why such a proposal is becoming necessary…
Solar Cost Hits World's New Low, Half the Price of Coal
Legislation sent to Gov. Jerry Brown also prohibits the export of killer whales.
It's wonderful to have good news, to help balance the negative.
Thanks for reading! Until next time…
---
If you like what you read, sign up for the newsletter to have these posts sent to you once a week in an email. It's simple! Just enter your email address in the box on the top right of the page.